Dr. Edward Paul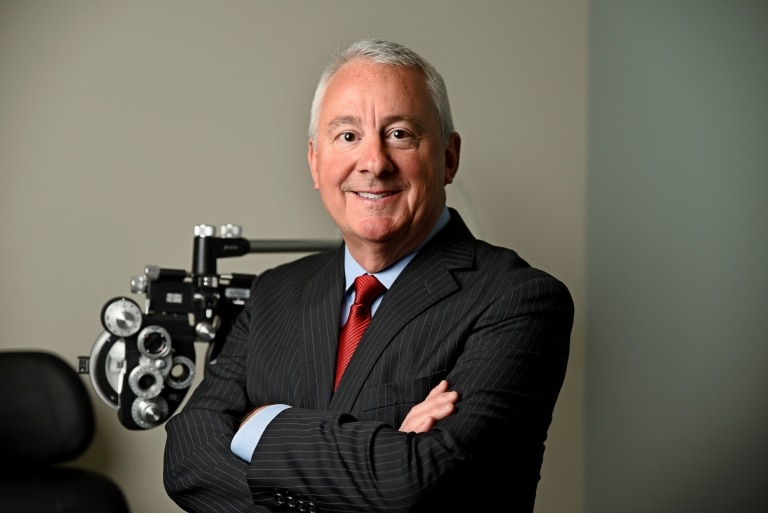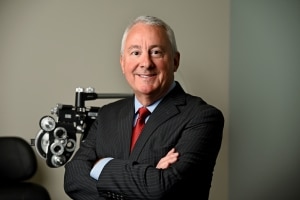 Dr. Edward Paul is known for his independence and tenacity when it comes to finding treatments for so-called "incurable" eye diseases. He also has a hard-earned reputation as one of the world's leading authorities on macular degeneration and nutritional medicine. Often years ahead of the conventional medical establishment, he has evaluated, researched, formulated, and written about treatments and cures for various eye diseases – ranging from cataracts and macular degeneration to dry eye syndrome.
Dr. Paul is the developer and researcher behind TOZAL, a nutritional supplement that improves vision in patients with macular degeneration and O3+Maqui, a dietary supplement that relieves dry eye symptoms. Dr. Paul's supplement is the exclusive formula used in the landmark TOZAL Study which was published in the British medical journal BMC Ophthalmology. The TOZAL Study demonstrated that 77% of macular degeneration patients who took the supplement for six months experienced stabilization (no further deterioration) and/or improved vision.
For more than 30 years Dr. Paul has been helping people to see better and live healthier lives by recommending the best of conventional medicine combined with alternative approaches. Dr. Paul holds multiple U.S. and foreign patents on pharmaceutical agents and medical devices used in the treatment of eye diseases and systemic disorders.
He has been chosen for ten consecutive years as one of "America's Top Optometrists" by the Consumer's Research Council of America. In addition, he was chosen the  "Best of Wilmington" award in the category of eye physicians and designated as a "Top Doctor" by Findatopdoc.com. Dr. Paul is one of only 30 eye physicians in the world to be recognized as a Fellow of the International Academy of Low Vision Specialists. He is a graduate of Southern College of Optometry in Memphis, TN, where he received a Doctor of Optometry degree (O.D.), and also holds a second doctorate, a Doctor of Philosophy degree (Ph.D.), in Nutrition.  Dr. Paul completed his internship at Womack Army Medical Center on Fort Bragg and St. Luke's Cataract & Laser Institute in Tarpon Springs, Florida.
Dr. Paul is author of several books, including Conquering Macular Degeneration and 101 Great Ways to Health. He serves as a contributing author to several national magazine publishers, including Rodale Press, publishers of Prevention magazine.  Dr. Paul has been featured on PBS, Fox, NBC, ABC, CBS and Lifetime for his work with Macular Degeneration and Low Vision Rehabilitation.
In 2005, Dr. Paul was appointed Honorary Consul of Belize by the Belizean Ministry of Foreign Affairs. He is an accredited diplomat recognized by the US Department of State.
Dr. Benjamin Taylor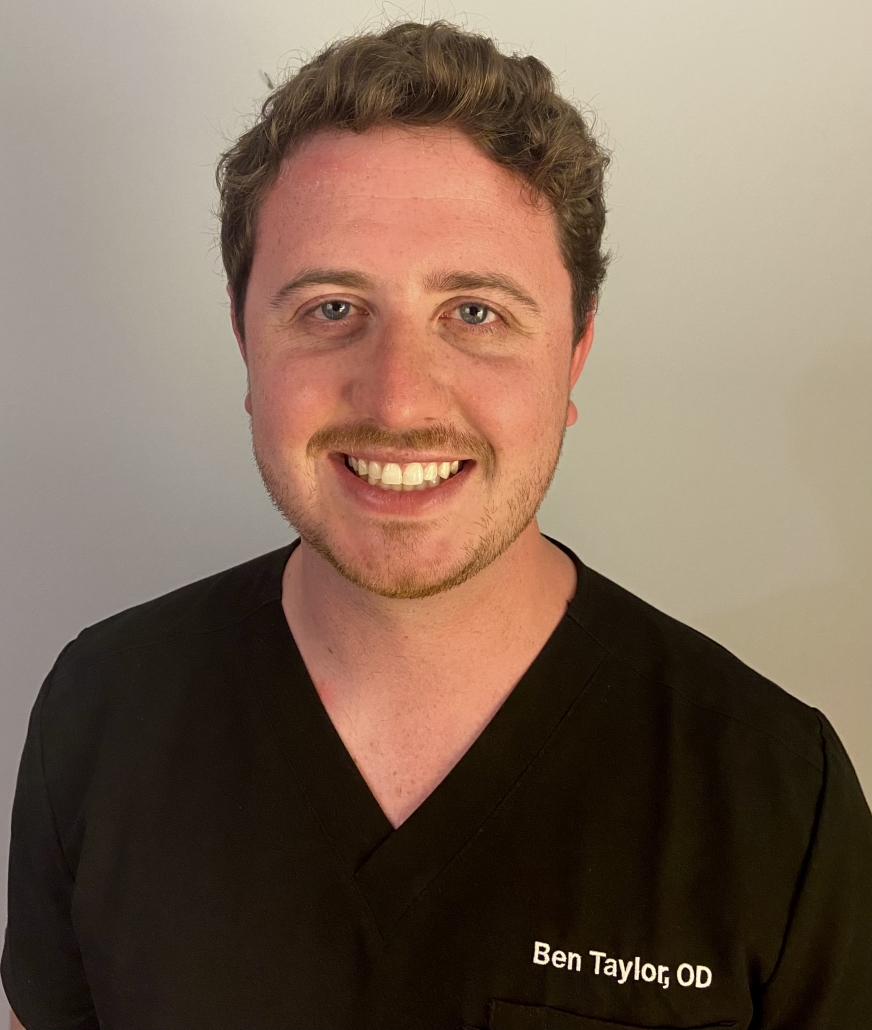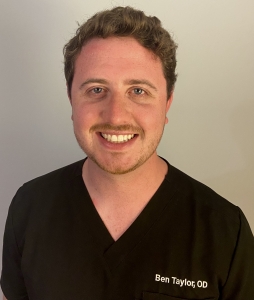 Dr. Benjamin Taylor and his wife, Elizabeth, are both from Raleigh, North Carolina but they began to call Wilmington home in 2019. He is an avid surfer, musician, and outdoorsman and loves to take advantage of all of the incredible activities that coastal North Carolina has to offer.
Dr. Taylor is an alumnus of North Carolina State University and he graduated cum laude from the Southern College of Optometry in Memphis, Tennessee. Dr. Taylor received extensive training in ocular disease and specialty contact lenses at The Eye Center in Memphis, TN and at WG Hefner VA Medical Center in Salisbury, NC. Additionally, Dr. Taylor was trained right here at Paul Vision Institute in ocular disease and low vision rehabilitation by Dr. Paul. He is an active member of the AOA and is currently a chair member for the Young Optometrist Committee in the North Carolina Optometric Society.
Dr. Taylor approaches eye care with your overall health and well-being as his priority. He incorporates modern medicine and evidence-based literature to care for your eyes and how they pertain to your wellness in general. He practices full-scope optometry with a wide range of services available from vision correction with glasses and conventional contact lenses, specialty contact lenses, diabetic eye care, dry eye disease, treatments of infections, uveitis, and ocular surface disorders, glaucoma treatment, and post-surgical care. Dr. Taylor is passionate about helping patients achieve their best possible vision so that they can live happy and healthy lives. Dr. Taylor aims to deliver the best concierge-level eye care services to each one of his patients. He is accepting new patients and looks forward to seeing you very soon!
Dr. Casey Krug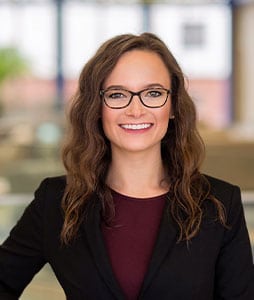 Dr. Casey Krug graduated from The University of North Carolina Chapel Hill with a B.S. in Psychology. She is a 2021 graduate from the Southern College of Optometry in Memphis, Tennessee where she received the Dr. David P. Sloan Memorial Award, which recognizes a student who demonstrates significant service to the profession of optometry and the Class of 1967 Memorial Endowed Award recognizing outstanding leadership. She was also selected as the 2020 student of the year by the American Optometric Association. Dr. Casey has received extensive training in adult primary care, ocular disease, and low vision at The Eye Center in Memphis, TN, the Salem Virginia VA Medical center, and at Paul Vision Institute where she also completed her residency in Low Vision and Ocular Disease.
As a licensed North Carolina optometrist, Dr. Casey provides comprehensive exams, diagnoses, and management of all disorders that affect the eye. She works hard to stay current on the latest advances in eye health and vision care. She regularly attends continuing education seminars and advanced training courses. It is because of Dr. Casey's dedication to continuing education that our patients receive the most modern and progressive vision care available.
When not busy enjoying her patients, Dr. Casey is passionate about volunteering in the community. She also appreciates outdoor activities, cooking, and traveling. If you have any great outdoor stops, recipes, or travel tips, Dr. Casey would love to hear about them during your next eye health examination.
Dr. Alexandra Robertson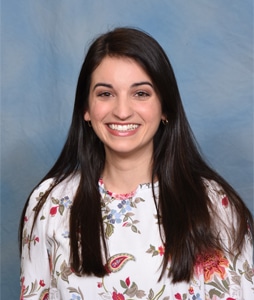 Dr. Alexandra Robertson is a Carolina native from Fort Mill, South Carolina.  She attended the University of South Carolina in Columbia and graduated Magna Cum Laude with a Bachelor of Science in Public Health with Leadership Distinction in Professional and Civic Engagement.  Dr. Robertson graduated from the Southern College of Optometry in Memphis, TN and she was awarded the Dr. Robert and Evelyn Henry Outstanding Clinician Award.  She completed a residency in Ocular Disease and Low Vision Rehabilitation upon graduation at Paul Vision Institute in Wilmington, NC.  Dr. Robertson is a licensed Optometrist in both North and South Carolina.  She is knowledgeable in managing macular degeneration, glaucoma, diabetic retinopathy, and cataract post-op care.  She has interest and extensive experience with low vision rehabilitation, double vision, and ocular emergencies.
Dr. Robertson is incredibly passionate about sustainability and held an active role in clubs while attending both USC and SCO.  She has incorporated sustainable practices into our office including recycling contact lens cases, contact lens blister packs, and old prescription lenses.
When Dr. Robertson is not seeing patients, she enjoys finding new restaurants and spending time with her family and four-legged, furry children – Eyeleen and Onyx.  Dr. Robertson strives to ensure her patients understand and are educated on both their ocular and systemic health while delivering personalized, exemplary eyecare to the community.  She looks forward to meeting you at your next visit.
Dr. Pankti Patel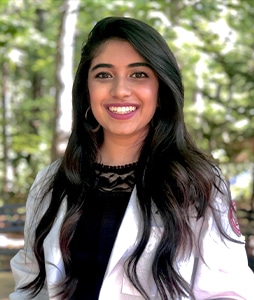 Dr. Pankti Patel was born in Chicago, IL, but has made North Carolina her home since 2003. She graduated from North Carolina State University with a B.S. in Human Biology in 2019. Dr. Patel received her Doctor of Optometry from Salus University- Pennsylvania College of Optometry in 2023 where she was presented with the Optelec 2023 Excellence in Low Vision Award. She has received her training at The Eye Institute in Philadelphia, PA and at the Charlotte VA Medical Center. Currently, she is completing a residency in Low Vision Rehabilitation and Ocular Disease at Paul Vision Institute.
Dr. Patel provides a vast skill set including, but not limited to ocular disease, low vision care & devices, dry eyes, glaucoma, and more.
When Dr. Patel is not spending time taking care of her patients, she enjoys traveling and volunteering to underserved communities. She recently spent a week in Nicaragua providing eye care to those without access. She also enjoys cooking new recipes and spending time with her friends and family. In the future, she hopes to attend more optometric conferences so she can be up to date with the literature and advancements in eye care. Dr. Patel is truly passionate about her career as well as her patients. She is eagerly welcoming new patients today!