Ciba Lenses
Learn more about the AirOptix, Freshlooks and ClearCare products below by clicking on the images (you will be directed to the appropriate Ciba webpage in a separate browser window):
Air Optix
Imagine comfort you can feel all day, every day. AIR OPTIX® family of breathable contact lenses let you meet the day – and the night – without missing a beat. They even have an easy-to-remember monthly replacement schedule to fit your nonstop lifestyle. See how natural they feel.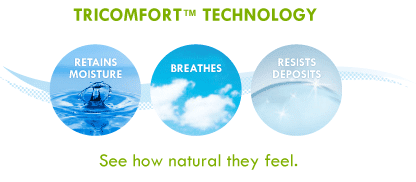 The innovative TriComfort™ Technology in AIR OPTIX® brand contact lenses helps lenses stay comfortable from breakfast to bedtime in three important ways:
Breathability – Rich, nourishing oxygen flows continuously through AIR OPTIX® brand contact lenses, contributing to a healthy, natural feeling.
Retains Moisture – The patented materials of AIR OPTIX® brand contact lenses help retain moisture, which helps prevent the lenses from drying out, so lenses feel comfortable all day long.
Resists Deposits – AIR OPTIX® brand contact lenses feature an ultra-smooth surface designed to resist deposits – for comfortable wear all day long, every day – even for up to one month.
FreshLook® Color Contact Lenses
Want to change, enhance or illuminate your eye color? For dark eyes or light eyes, even if your vision is perfect or you have astigmatism, we have the lenses for you.
FreshLook ColorBlends® – Change
For a subtle change and a beautiful look. Three-in-one technology blends three colors into one. Also available for astigmatism.
FreshLook Dimensions™ – Enhance
Enhances and defines your eyes. Natural-looking transparent hues create depth and dimension.
FreshLook® ONE-DAY
Make an impression, not a commitment with new FreshLook ONE-DAY color contact lenses. Pick one gorgeous look today, and a whole new one tomorrow. The colors change, but the results are the same – stunning.
CLEAR CARE®
Why CLEAR CARE® Solution is the clear choice…
CLEAR CARE® Cleaning & Disinfection Solution does more than just clean contact lenses, it delivers pristine clean and pure comfort, with no added preservatives.
Exclusive cleaning formula
The power of hydrogen peroxide
Gentle comfort even for sensitive eyes
The CLEAR CARE® Solution system is easy to use and works seamlessly for a pristine clean—so your lenses feel like new every day. And nothing feels better than a fresh, new pair of contact lenses.
Unlike ordinary lens care products, CLEAR CARE® Solution bubbles to actively clean your contact lenses—for cleaning you can see and comfort you can feel.
Exceptional cleaning action
Delivers excellent comfort
Tough on germs—gentle on eyes
Peroxide-based CLEAR CARE® Solution penetrates contact lenses and kills germs and bacteria for strong disinfection and deep cleaning. Bubbling action enhances surface protein removal to give your eyes the comfort they deserve.